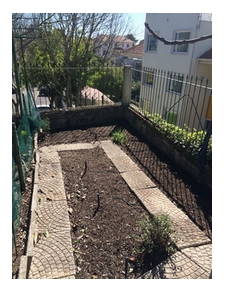 As we can see in this photo this corner flowerbed is "abandoned" and it is not being used at all.
It has some pavement that can be used as passage inside the flowerbed and a sort of a fence that needs some work.
So it is a perfect place to plant herbs as it has full sunlight exposure and it as some wind protection being located in a corner.
As preparation the soil needs to be picked out of rocks and to be loosened. Also it needs to be added some good compost before planting.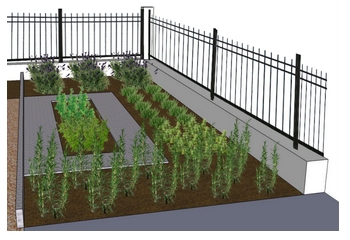 The proposal for this space is to create an aromatic garden with an array of herbs.
The idea is to create a central flowerbed surrounded by a path using the existing pavement. There will be planted more delicate herbs such as parsley , coriander and basil . These can and should be picked only whenever they are needed so they keep their fragance and freshness so appreciated in culinary.
Around this central flowerbed will be planted the tougher herbs such as rosemary , lavender , thyme and lemon thyme . These can be picked when needed or to dry, for instance the thyme.